Ok, you can contour with the best of them. Your make-up definition and highlight game is so strong you're pretty much a Kardash. And we've all sold our right arm at Mecca only to end up perfectly equipped with an entire arsenal of products that have no chance of fitting in our morning routine and only get to make an appearance on the weekends and in the obligatory Insta post! #flatlay
This is the reality though. Whenever contouring is mentioned we automatically think of timely make-up tricks that we normally forgo in order to get on with the daily grind… "Sorry face some simple bronzer is going to have to cut it today, those shirts aren't going to iron themselves/the bus isn't going to wait or the kids don't care if my bags are on my shoulder or under my eyes" You get the gist there just never seems to be enough time.
But what if you didn't have to do all this work on your face daily to make those cheekbones pop, bring out the colour of your eyes or balance out a wide forehead? What if an expert could do this for you and every day your face is accentuated to make to most of your best features, whilst also flattering your natural skin and eye tone? Well, it's time to get excited, because Hair Contouring is here! And to be honest it will probably be the best thing you will ever do to your hair…. Like legit!
Hair contouring is the latest innovation and trend taking the hair and beauty industry by storm. It's been on the radar since 2015 but is increasing in popularity and easily emerging as 2016's most solid hair "do".
Hair contouring as you can imagine is different for every person. There is no set way to apply the colour as there is no 2 faces exactly the same. The result, is an artfully designed play on light and shadow that when strategically placed (usually though a combination of balayage, on scalp colouring and foils) perfectly frames your face! Whether you use It within your usual hair colour or as a total change the principles and idea behind contouring can be applied or adapted in any way to ensure the best result possible with as little or as much maintenance as you desire.
Of course not being someone who is happy to miss out I put my hand up to try out this new technique. I'm just a real team player like that 🙂 After a consultation and face analysis we determined that my face is an "oblong" shape and in order to reach the desired "oval" that my Instagram crushes have, we opted to use the L'Oreal professionals Horizontalization (while not a word it's a thing… apparently) technique. To achieve this we apply highlight on the sides of my face and in front of the ears- this draws the sides of my face at the cheekbones outwards- we then left shadow and depth through the roots and the back/nape- this created what we call a dark echo to frame the jaw. These colour changes are not too far outside of my normal colour process, we placed some pieces in slightly different areas but overall it is totally something I would normally consider having done, in fact I love it.
Have a look for yourself at the below picture you can easily see the oblong look of my face in the before (left side) and whilst not noticeably wider my face in the second picture appears more proportionate and not as long.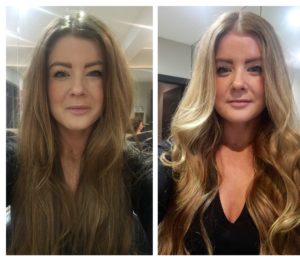 Well you can colour us (tehe) sold and as you can see we are having great results in salon.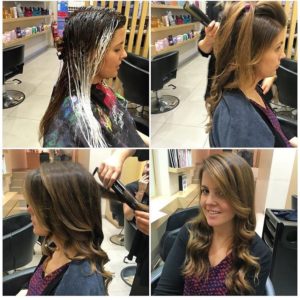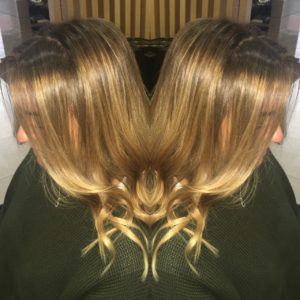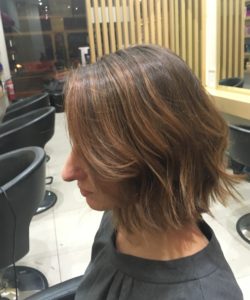 So make sure you ask your TRESS stylist about this new dimension in colouring on your next visit… who knows it could be the chin lift you've been looking for.
Until next time,
Estelle xx